Latest Race Report: Marathon 42: Zurich Marathon April 28 2019

The Big One. I have now run 42 marathons and in addition to that, approximately 200 half marathon or longer distances. I am 45 years old.Today I got my personal best, of 3:37:02, beating my previous personal best of 3:46 set in 2015. I am really, really happy about this!
Zurich is always a special event for me, firstly because it is my adopted home town where I have now lived for the best part of 20 years, and secondly, because the route is the flattest of all the races I have done - meaning that if a personal best is to be achieved, here is a good place to try for it.
I mentioned in my last race report that after my third marathon distance of this year, I decided to focus my training on speed in the run up to the Zurich 2019. I figured that, since I had never run three marathon distances in the run up to this race, that perhaps there was a chance that I could capitalise on those training effects. Of course, at the back of my mind was the outside hope that I was still capable of a personal best or close to it.
Although my last race three weeks prior had been quite terrible, I know from experience that everyone has off days so I continued to try to do my shorter runs at an intense pace. A few days prior to the state date, I decided that on this occasion, I'd leave it all out on the field, all or nothing. After all, I felt good and if I overdid it and crashed and burned, what did it matter? It was my forty something marathon after all, and I had recently all but forgotten one of the earlier marathon distances I had done earlier in the year.
I felt fit, prepped, well fuelled, and I had nothing to lose. Also, a few weeks prior I had seen an article about a popular race shoe from Nike, called the Nike Vaporfly 4% flyknit. Until now, I had always raced in conventional shoes, the same shoes that I trained in. The shoes looked interesting but at the time I filed away the information in my brain without thinking about it too much. However, this year, the bib pick up point was changed from a sports hall, to a department store in town called Jelmoli. Walking back through the sports department afterwards, I checked out the shoes and ultimately ended up buying a pair.
I would not ordinarily recommend racing in a new and untested pair of shoes, but hey, this was my go big or go home run, so I got in a 3km freshening up run the day before the race to check out my new ride. They were certainly extremely light compared to my pegasus, and very springy. Let's do this.
The marathon started with cold temperatures and rain, so I wore my waterproof jacket for the first 10km, handing it off to Ursula who was supporting me from the sidelines, as she so often has, and as I will always totally appreciate. Thanks love!
I was extremely quick off the mark (for me), with the first five kilometers all at a pace under 5:00 /km. After that I slowed a little but still in the low fives. This really was all or nothing for me, and normally this would be considered too much. One of the most typical mistakes in marathon running is "too quick off the mark", running beyond your training pace too early will normally lead to a very uncomfortable confrontation with "the wall" later in the run.
Still, I was up for it, my legs felt light with the shoes, and I felt fairly strong. This only rarely happens to me on race day. All the way out to the turnaround point at Meilen, which actually comes around 25km, I was running one of the strongest races of my life. Zurich is also good for the runners psychology, because when you do turn around and start heading back towards the city, you are well beyond the half way mark and this is definitely good from a mental point of view. On the way there, I also passed Danny and Karen from Herrliberg, who had come out to support me. Such things always give a boost - thanks guys!
However, literally at that turning point, and I mean, EXACTLY at the turning point, I started to notice that I was having pain in my thigh muscles (quads). I quickly surmised that the cause of this pain must be my new shoes. The race shoes were causing me to run a slightly different stride, which placed strain on slightly different parts of my legs, which were not trained to run with this new shoe. Although I was more than halfway home and with a personal best still a real possibility, I realised with alarm that this was not a great sign. Races can fall apart at any moment. I've seen it, I've experienced it, and it can come quickly.
Nevertheless, as part of my training, I had taken a look at what paces are needed to beat my personal best, and what is needed for a sub 3:40 time, and I knew I was in the zone for that latter outcome if I could keep going around my current pace. This was an incredibly enticing prospect.

So, I started my journey back into town. 17km out of 42km to go. I even put in a few more sub 5 minute kilometers but noted that the pain in my quads was definitely on the increase. I decided that I would try to keep a good pace until km 35, and if I still had it in me, I would fight through any pain regardless, and that is more or less what happened. Reaching the corner of the lake at Bellevue, truly back in the city, with a few km to go, I spotted Ursula and handed off my running belt, managing to tell her "I'm quick" before ambling off at what by that stage probably did not seem quick to anyone but me!

Still, nothing was going to stop me now. I crossed the finish line with 3:37:02. This is a great result for me, nine minutes faster than my previous personal best (also set at Zurich). Of course, there are plenty of faster runners out there but I am always keen to stress that I am a fairly normal guy. On the other hand, only 2% of runners run a marathon under three hours, so I also have nothing to feel ashamed about. Overall, my time put me 804th out of 2310 finishers, with a further 6 disqualified and 104 who started but did not finish. I placed 714th out of 1811 men overall, and 118th out of 278 men in my age group (45 to 50). Excluding elite athletes, I was 791st out of 2297 runners. For completeness, I can also tell you that for Zurich based males, I ran 220th out of 625 competitors.

Once again, I am really happy with this result.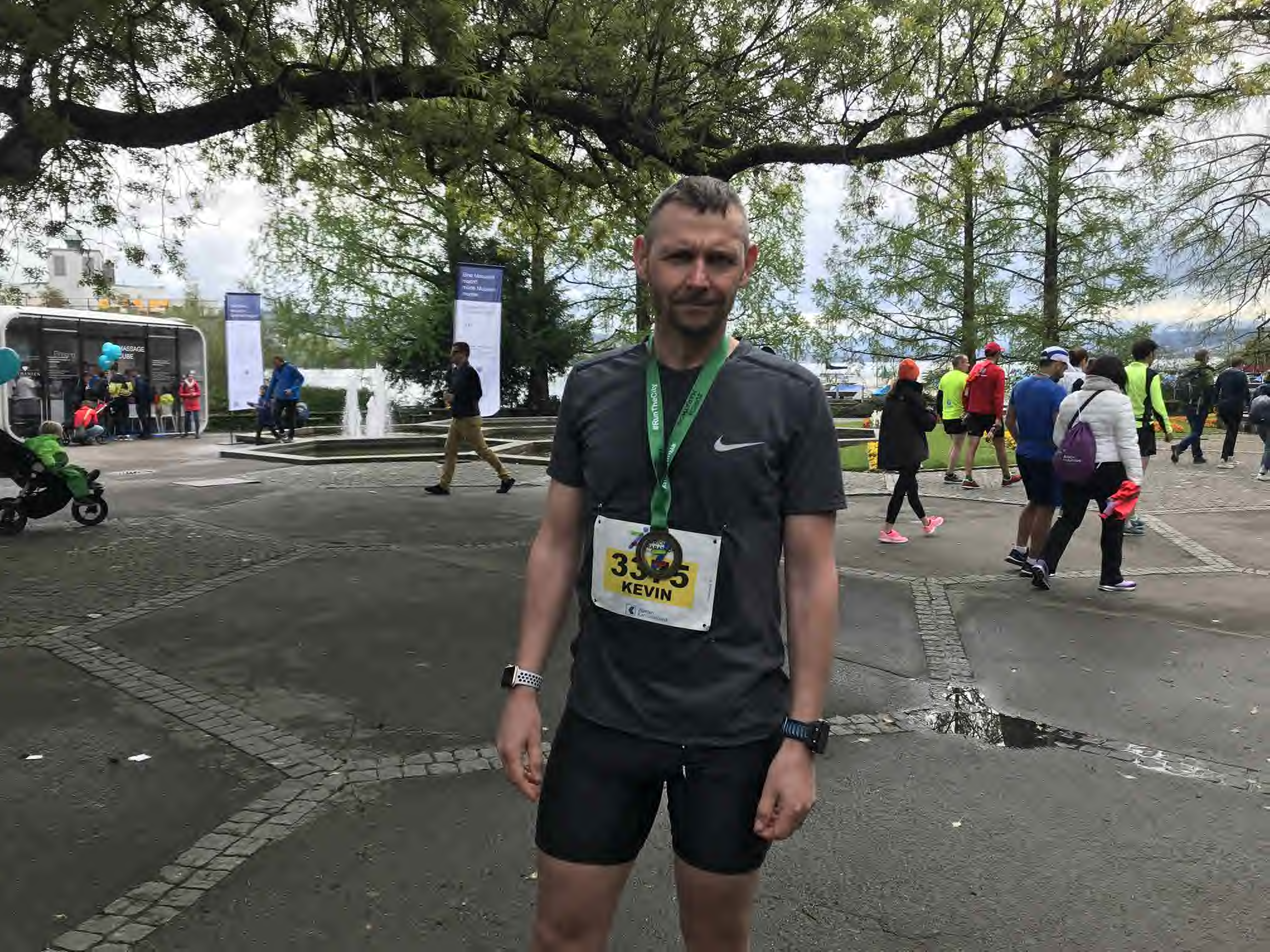 To read my all my other race reports, click here